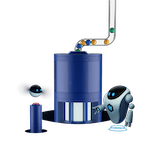 The Yield Automation Protocol
DeFi yields aren't easy to manage.
Idle makes you feel like they are

Yield optimization and risk tranching
Automated, diversified
DeFi yields
Come bears or bulls, our vaults make it easy to stay diversified for your long-term goals. Our vaults help you manage unnecessary risk, minimize your costs, and maximize your yields — all done (you guessed it) automatically.
Best Yield
Best Yield vaults are designed to maximize yields. Like robo-advisors, deposits are routed through different strategies which seek out the highest yield available in DeFi.
Automated and algorithmic rebalance
Zero gas cost for optimization
Aggregated Senior/Junior risk exposure
Yield Tranches
Diversify your DeFi exposure with Yield Tranches - split your yield source into Senior for stable returns with built-in coverage, and Junior for higher returns while minimizing the risk of loss to the Senior class.
DeFi risk diversification
Fully on-chain default settlement
Adaptive yield split to scale liquidity
Grow, save and automate
$9.5M
Interest generated for LPs
DeFi
integrators
Avoid the need to integrate multiple yield sources, and achieve the best risk adjusted yield with just one integration, powered by ERC-4626.
Institutions and
Organizations
From DAOs to institutions, Idle DAO provides yield optimization and risk diversification solutions for any treasury manager.


An ecosystem full of yield

Your assets, secured
One of the longest-running and battle-tested DeFi protocol, going strong since 2019
Security audits
Performed by world-leading security companies
Security reports:
Minimum standard requirements needed to implement a new yield source or an asset in Idle protocol include meeting the safety criteria in terms of due diligence, audits & performance of the protocol
Security guidelines
Idle also follows strict integration guidelines
Fortified by $100K bug bounty program
Highest security standards mean audits alone are not enough. Find a smart contract bug or a security vulnerability and get rewarded

Governance and community
Idle is a fully decentralized, community-governed protocol