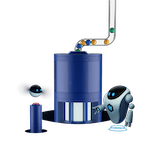 The Yield Automation Protocol
DeFi yields aren't easy to manage.
Idle makes you feel like they are

Yield optimization and risk tranching
Get the yield best suited for your needs
Achieve capital efficiency with Idle's products: as a leading DeFi yield aggregator, Idle offers first-rate yield optimization and risk tranching strategies. Get the best yield by using, integrating or building on top of Idle's products. Money should never sit still.
Best Yield
Best Yield vaults are designed to maximize yields. Like robo-advisors, deposits are routed through different strategies which seek out the highest yield available in DeFi.
Automated and algorithmic rebalance
Zero gas cost for optimization
Aggregated Senior/Junior risk exposure
Yield Tranches
Diversify your DeFi exposure with Yield Tranches - split your yield source into Senior for stable returns with built-in coverage, and Junior for higher returns while minimizing the risk of loss to the Senior class.
DeFi risk diversification
Fully on-chain default settlement
Adaptive yield split to scale liquidity
Grow, save and automate
$9.5M
Interest generated for LPs
The power of DeFi in a single protocol
A one-stop solution for your funds. Stay ahead of the curve with a range of robust DeFi yield products. Scalable, secure and easy to use
Smart optimizations
Maximize yields across several DeFi protocols, diversify your risk and shield liquidity providers from losses
Seamless yield monitoring
Use our built-in dashboard to easily track and manage your assets. Real-time and historic performance data just one click away
Easy integration
No need to stitch together disparate protocols or spend months integrating and updating yield functionality
Battle-tested reliability
Time is the true judge. Considerable effort was invested to create resilient products, with countless reviews and audits
Fast-improving protocol
Idle DAO and Leagues release hundreds of features and improvements each year to help you stay ahead of industry shifts
Transparent by design
The smart contracts are trustless, decentralized and non-custodial. The code is publicly available and data is verifiable on-chain

Your assets, secured
One of the longest-running and battle-tested DeFi protocol, going strong since 2019
Security audits
Performed by world-leading security companies
Security reports:
Minimum standard requirements needed to implement a new yield source or an asset in Idle protocol include meeting the safety criteria in terms of due diligence, audits & performance of the protocol
Security guidelines
Idle also follows strict integration guidelines
Fortified by $100K bug bounty program
Highest security standards mean audits alone are not enough. Find a smart contract bug or a security vulnerability and get rewarded


Made for the next generation of financial players
DeFi developers
Avoid the need to integrate multiple yield sources, and achieve the best risk adjusted yield with just one integration. Check the documentation for more info or get help at #dev-support Discord channel
Institutionals and DAO treasury managers
Individual
DeFi users
You want the best yield for your savings? Reliable security? Not to think about your yields on a day-to-day basis? All of that is available in one place. Visit the dashboard, connect your wallet and deposit your funds today!

Governance and community
Idle is a fully decentralized, community-governed protocol